A boat approaches the landing area of the fishing cooperative of Punta Lobos, a mile south of the town of Todos Santos, Mexico. Punta Lobos beach serves as base for two local fishing cooperatives that specialize in artisanal shark fishing.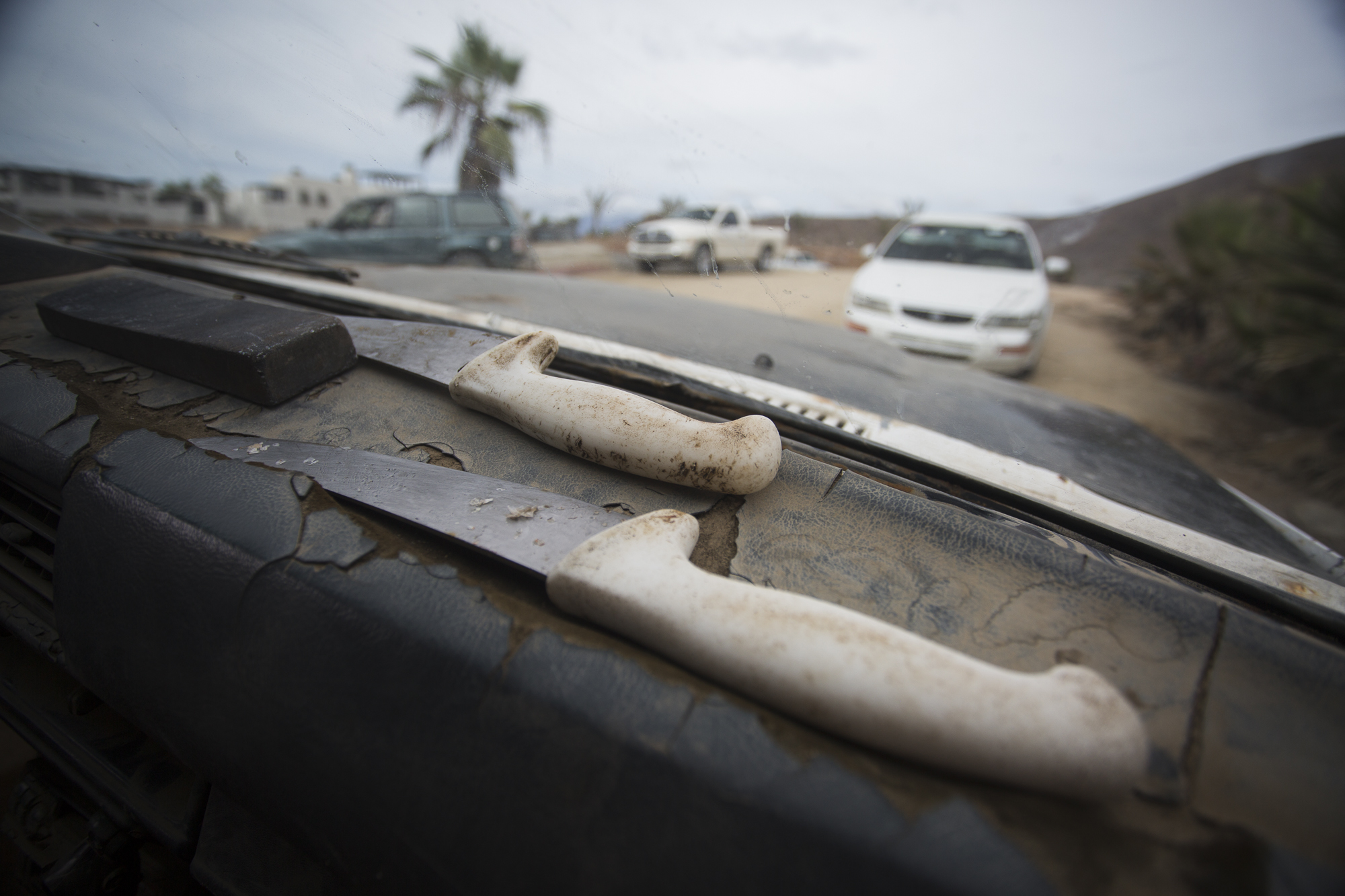 Two knives and a whetstone used to gut and clean fish sit on a fisherman's car dashboard. The lives of around 80 families in the neighboring towns of Todos Santos and El Pescadero are dedicated to shark fishing; with many of the families having been involved in the trade for generations.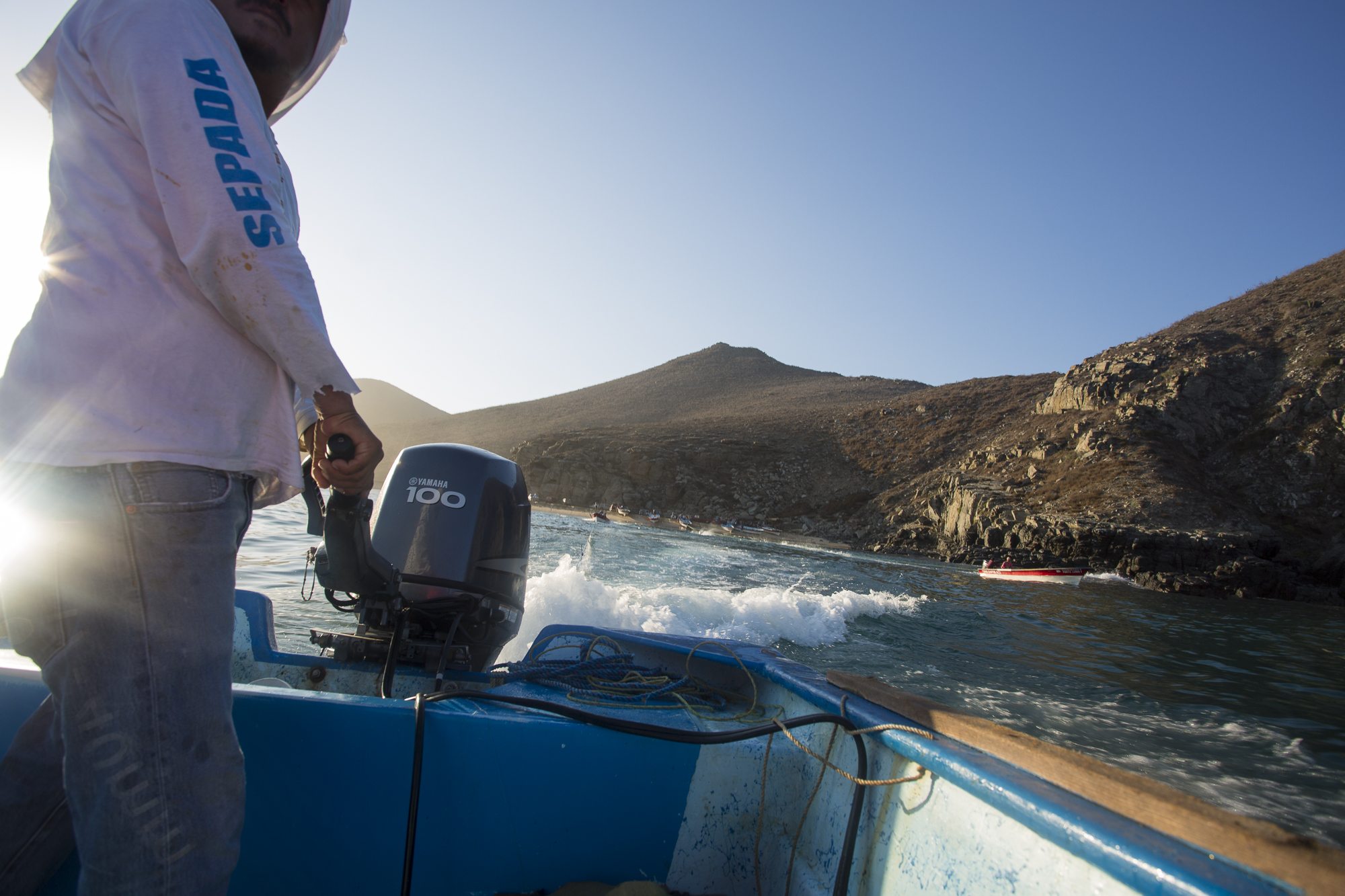 A fisherman departs Punta Lobos early in the morning, marking the start of a workday at sea that can last anywhere from 6 to 10 hours and take them as far as 50 miles away fro shore.
Fishermen hoist a silky shark (Carcharhinus falciformis) caught the previous night with the use of homemade fishing traps. The traps consist of two circular hooks attached to a longline fixed to a free-floating device that is left drifting in the open ocean; fishermen rely on GPS markings and their sight to find these traps every day to collect their catch and replace the bait.
Closeup of a silky shark's tail as it is hauled onto a fishing boat. Each of the 12 shark fishing boats of this cooperative has between 10 and 16 traps set any given day.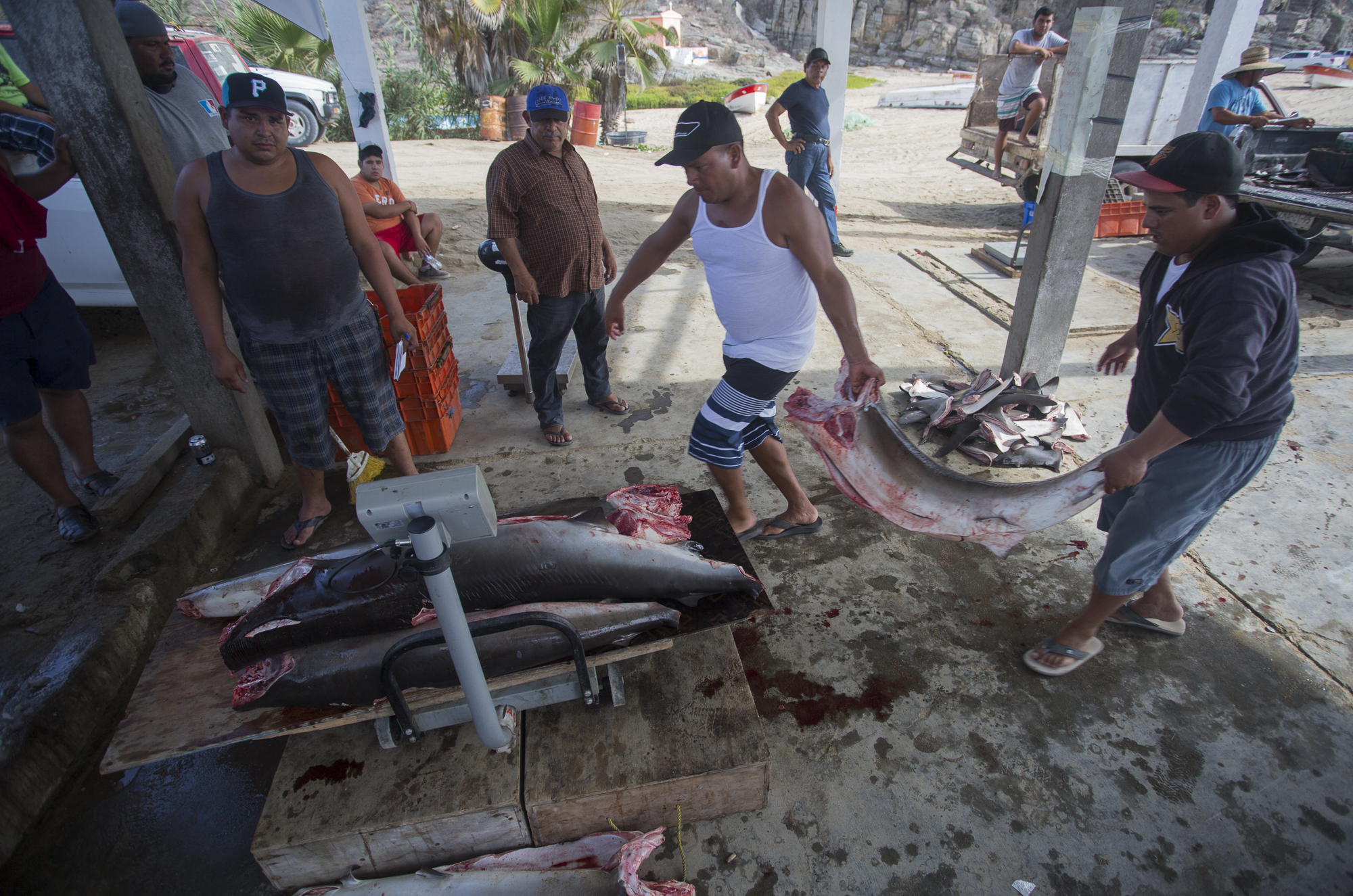 Fishermen weight the gutted carcasses of various sharks, which then are sold for meat at local fish markets, or salted and to be sold elsewhere in the country. The fins are dried and sold to intermediaries that then export them to the Asian market where they can fetch up to $650 per kilogram.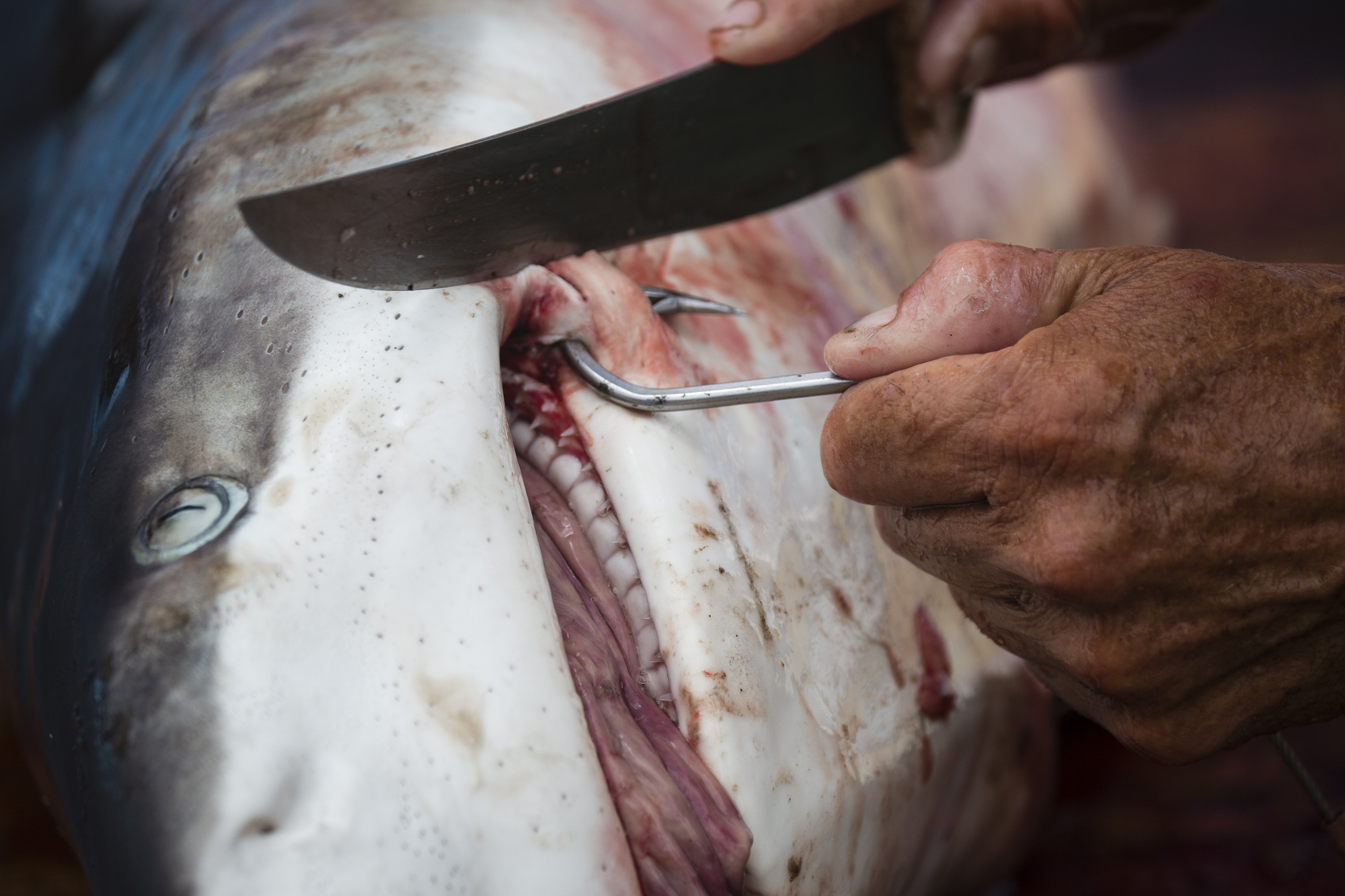 Jose Cota attempts to release the hook from a dead silky shark. While special hooks, like the circular hook pictured, can help fishermen avoid catching certain species like turtles and dolphins and individuals of certain sizes, this sort of fishing can still catch vulnerable and endangered shark species such as mako and tresher sharks.
A member of the cooperative writes down data from the day's catch: weight, species, and who caught them. This data is used by them for pricing their products, but it is also used by researchers who study shark populations and authorities who seek to regulate the trade.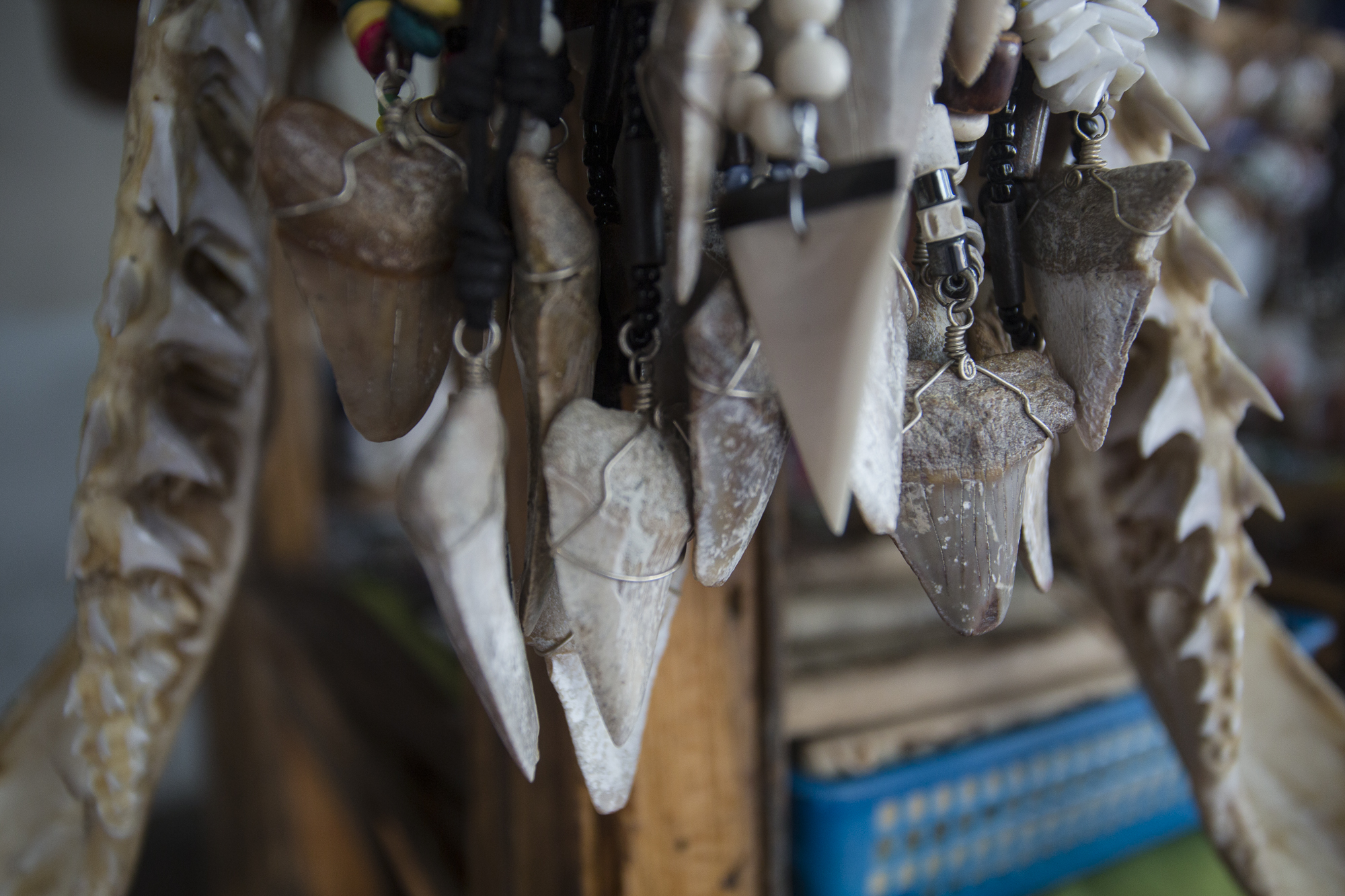 Fossilized and synthetic shark teeth hang along a mako shark jaw at a tourist souvenir shop in La Paz, Mexico. "I'm not interested in selling them, I want them to lure people" says one salesman about the shark jaws in display in his shop; as public knowledge about sharks increases, tourist have started opting for fossilized or fake teeth as souvenirs instead of a fresh tooth or a jaw.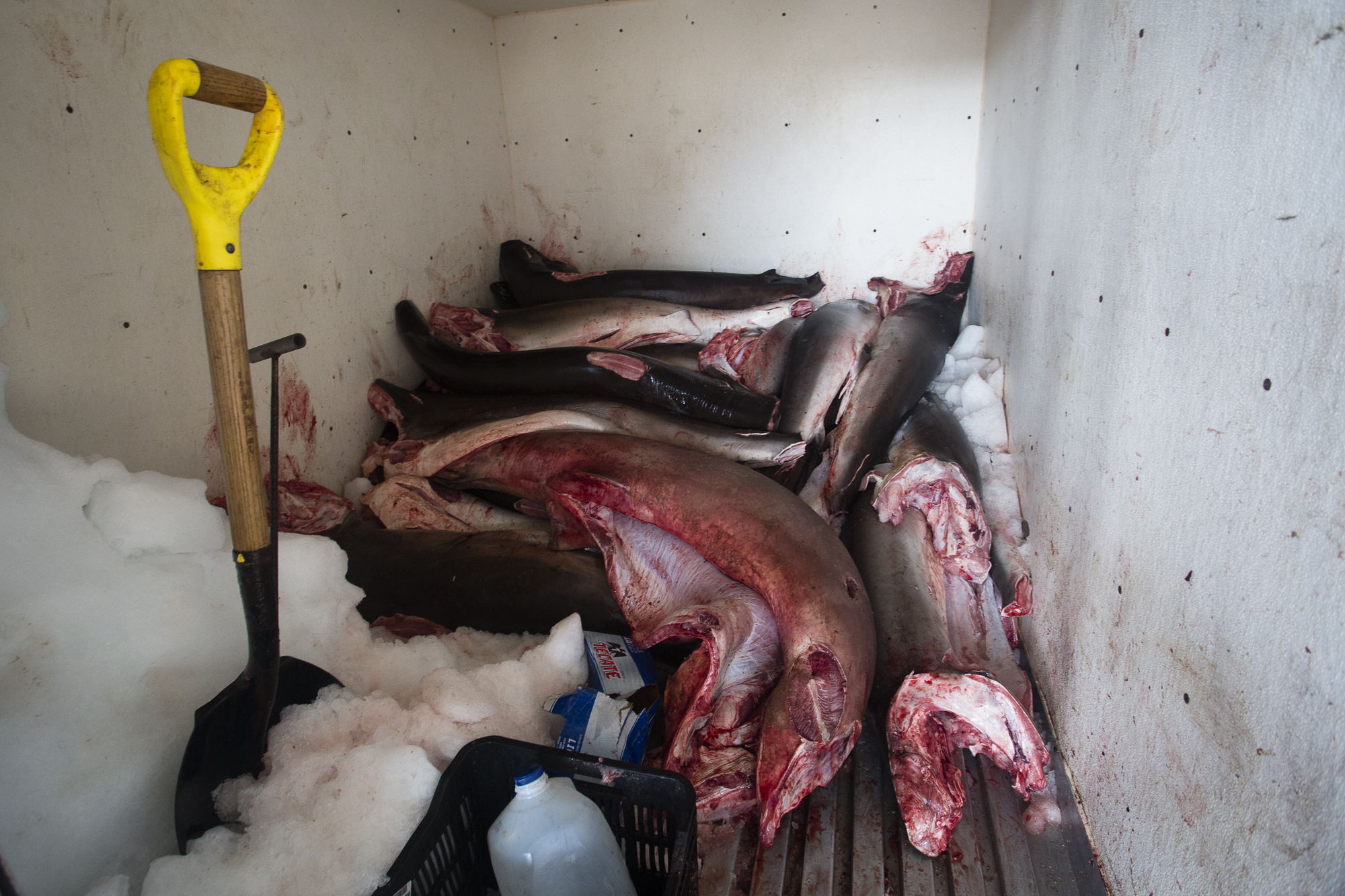 Shark carcasses piled on a freezer truck. For the fishermen of Punta Lobos this is the last they see of the sharks, many don't know where or how the meat is sold; their day is over when they get paid for the day's catch.
A team of fishermen drive their boat onto the beach at the end of their day. While each boat can potentially catch up to 16 sharks, it is very rare for all traps to catch a shark, and most average 7 sharks a day; the boat in the picture caught some yellowfin tuna, but no sharks on that day.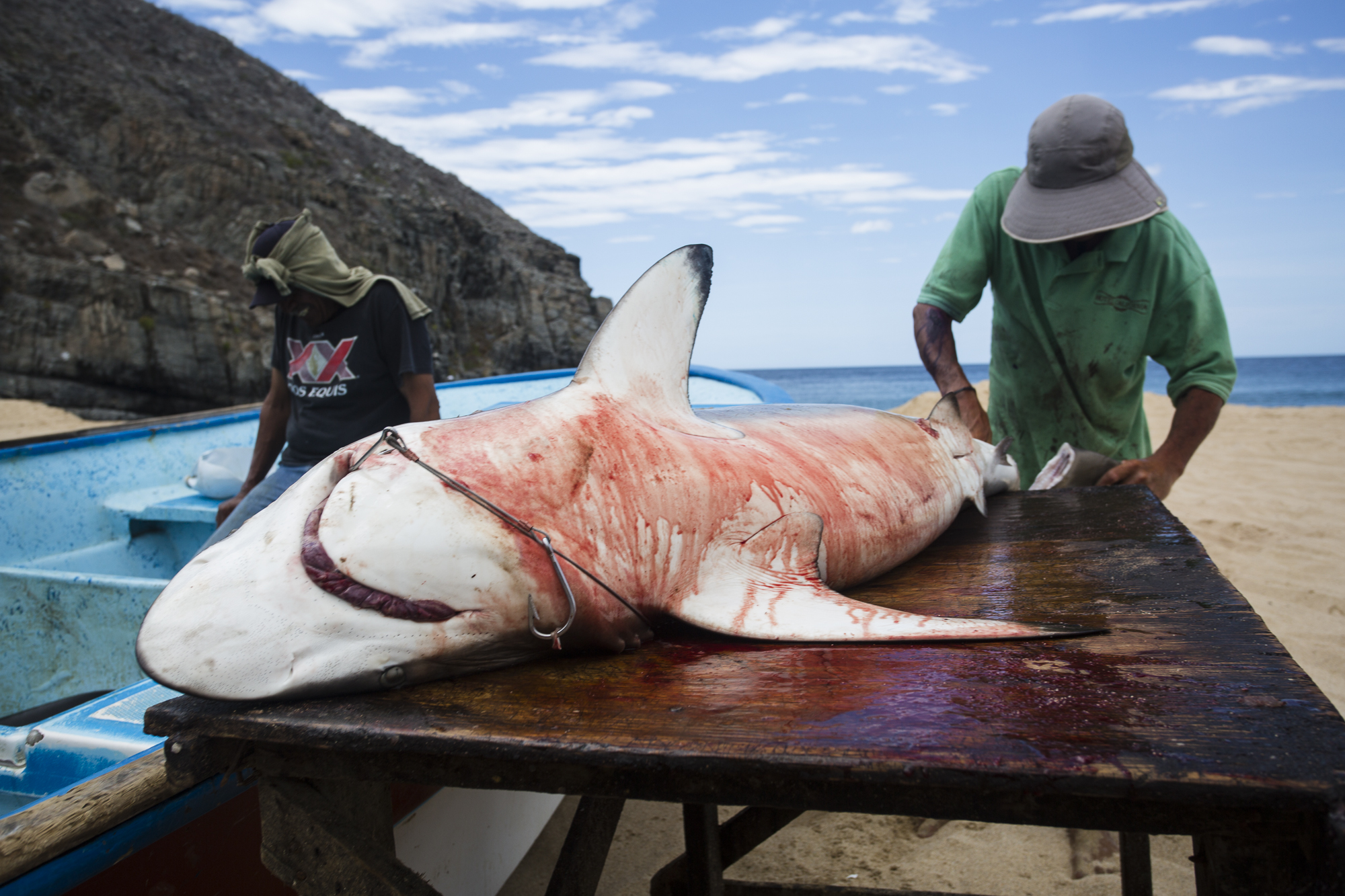 Jose Cota (right) fins a large silky shark, he makes a living gutting and cleaning sharks for the fishermen, working around 8 hours a day on the beach for 600$ Mexican Pesos or less ($32 US). The meat of the sharks he guts is sold for $2.60 US a kilogram, while the fishermen sell the fins for $40 US a kilogram; a shark this size can have around 40kg of meat and 2-3kg of fins.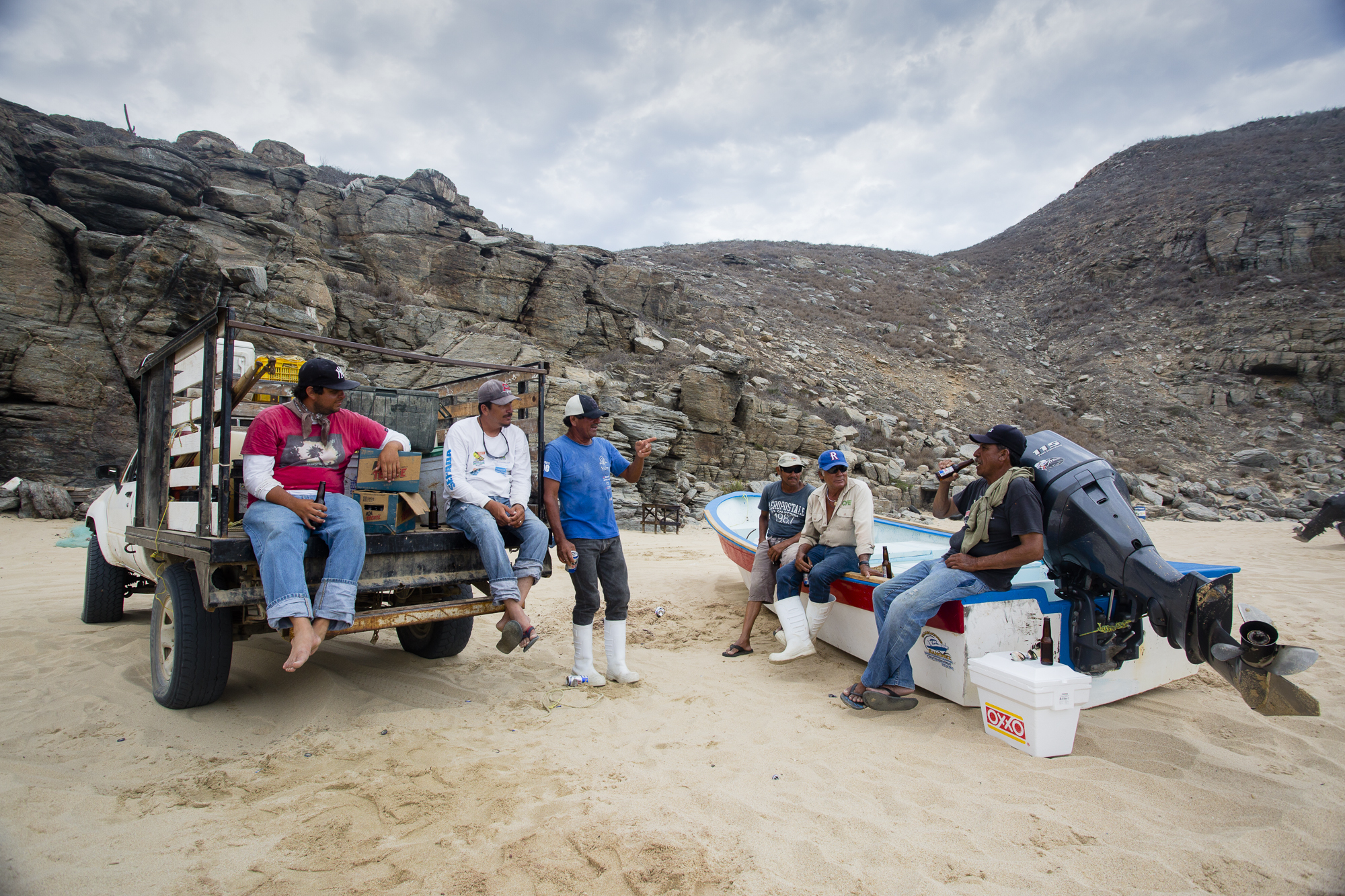 Fishermen chat and drink beer after finishing a work day. The fishermen of Punta Lobos have formed a tightly-knit community; many of them have been working together for years, and many come from families that have been working in Punta Lobos for generations.