Cave diver Manuel Allende swims through rays of sunlight at cenote Sugar Bowl, part of the Tajma Ha cave system, in the Riviera Maya, Mexico.
A leaf floats against its own reflection on the water surface of cenote Car Wash, in Tulum, Mexico.
A Honeycomb Cowfish (Acanthostracion polygonius) in the reefs of Cancún, Mexico. This species can be found on tropical reefs throughout America's Atlantic coast, and is exploited commercially for human consumption and the aquarium trade.
The skin of a porcupinefish (Diodon hystrix) in the waters of the Mexican Caribbean, in Cancún, Mexico. A member of the puffer fish family (Diodontidae), porcupine fish can take in water to inflate, expanding their size and displaying their spines to deter predators.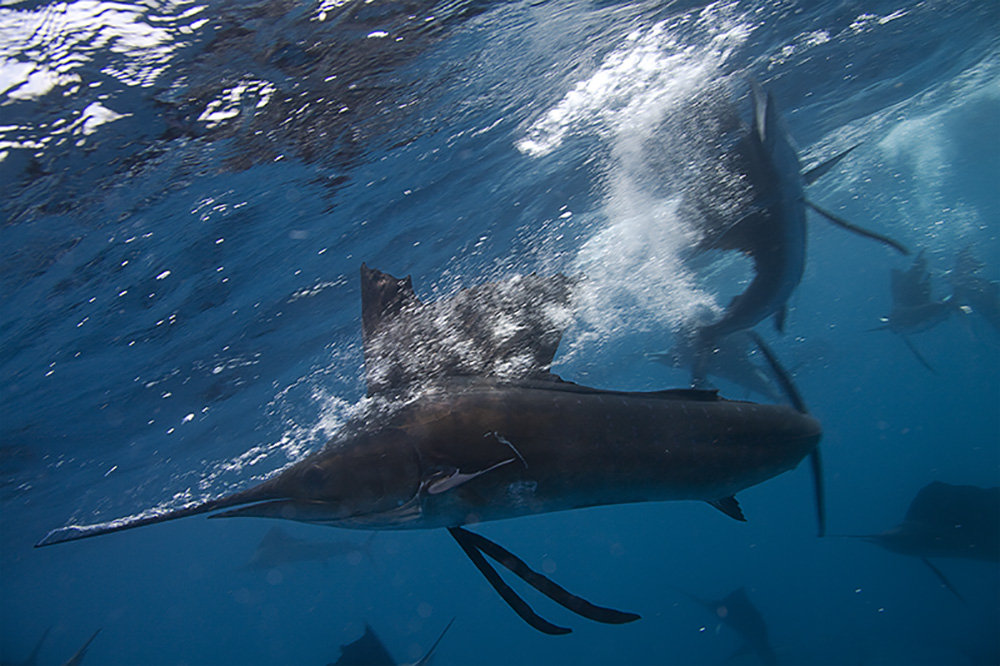 A group of Atlantic Sailfish (Istiophorus albicans) hunt for sardines in the Mexican Caribbean, off the coast of Isla Mujeres, Mexico. Sailfish use their bill to hack, slash and stun smaller fish while hunting.
Population trends are currently unknown, but due to their tough meat they are not commercially exploited for consumption; however they remain a popular catch amongst recreational fishermen.
A Mexican Crocodile, (Crocodylus moreletii), hides amongst leaves and mangrove roots in cenote Car Wash, in Tulum, Mexico. In the decades of 1940 and 1950 it was driven to near extinction by hunters looking for their skin; today, as a result of widespread conservation efforts and the Crocodile Specialist Group established in 1971, the populations have recovered and are now listed as least concern by the IUCN.
A humpback whale (Megaptera novaeangliae) and her calf migrate south for the winter, captured off the coast of Los Cabos, Mexico. Humpback whales are highly migratory animals, feeding in Arctic and Antarctic waters during summertime and migrating to tropical and subtropical waters for breeding during winter.
They are known to be a social species, often traveling with and interacting with other species of dolphins and whales. In recent years they have been documented protecting other species from possible predators, including an incident in which a whale shielded a woman from a tiger shark's presence.
Two gobies of the genus Elacatinus rest on a star coral in the waters of the Mexican Caribbean, in Cancún Mexico.
 
A close-up detail of a Moon Jellyfish (Aurelia Aurita) in the Gulf of Mexico. Moon jellyfishes are distributed globally and are an important source of food for several species like leatherback turtles and sunfish.
Recent studies have looked at jellyfish populations as indicators of ecological imbalance. Overfishing, nutrient pollution and ocean warming have contributed to decreased predation, increased prey, and better conditions for jellyfish populations to explode.
A Banded Clinging Crab (Mithraculus cinctimanus) hides among the tentacles of a Giant Anemone (Condylactis gigantea) in the reefs of Cancún, Mexico. This species is usually found living commensally with sponges, corals or anemones; the crab gets food and protection from its host, without harming or benefitting it.
A Whale Shark ((Rhincodon typus) feeds on plankton suspended near the water surface, off the coast of Isla Mujeres, Mexico. Reef Mantas (Mobula Alfredi) like the one pictured here (bottom) are often found in this site feeding alongside whale sharks.
A Pederson Cleaner Shrimp (Ancylomenes pedersoni) emerges from a Corkscrew Anemone (Bartholomea annulata) in the reefs of Cancún, Mexico. This species of shrimp isn't born immune to anemone stings, instead it acquires it by rubbing its body to the stingers for increasing periods of time until it is acclimatized.
A French Angelfish (Pomacanthus paru) in the waters off Cancún, Mexico. This species establishes monogamous breeding pairs and is known to be very territorial, defending their territory from other members of the species, as well as perceived threats.
 
A Yellowline Arrowhead Crab (Stenorhynchus seticornis) feeds on detritus atop a sea sponge, in the reefs of Cancún, Mexico.
Water lilies in Car Wash cenote.